Comedy for Corporate and Private Events
Green Light Booking has a well-deserved reputation for providing clean, wholesome, and high-quality corporate comedy entertainment. Our corporate comedy magicians, jugglers, emcees, and stunt comics are some of the funniest and most entertaining acts in the country. Standup comic John Moyer is an outrageously funny one-man show that always leave audiences in stitches. John does both standup and comedy hypnosis, your choice.
Corporate Entertainment Options:

Corporate Entertainment

Corporate Bands

Hostesses and Models
Comedy for Corporate Events
Matt Baker's Comedy Stunt and Juggling Show is one of the hottest and most requested variety acts in the country. Once you see Matt's amazing show you'll understand why he was voted Seattle's Funniest Prop Comic. Comedian Jeff Civillico is an in-demand emcee, comic, and world-class juggler.
The International Magicians Society has twice voted Chipper Lowell as their "Comedy Magician of the Year." And Al Lampkin has been selected as the "Best Close-Up Magician" by the Pacific Coast of Magicians and the "Best Comedy Act" of the year by the International Brotherhood of Magicians. Book premier entertainment from Green Light Booking and your audience will be rolling in the aisles.
Comedy Performers for Corporate Parties
John Moyer
Standup Comedy & Hypnosis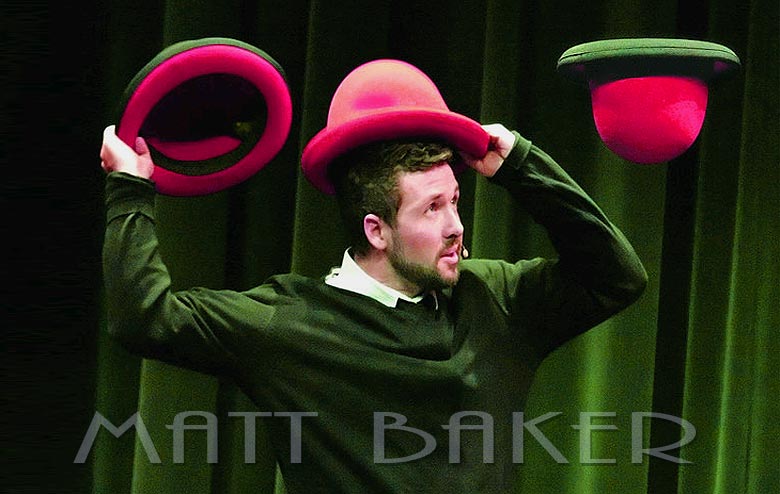 Matt Baker
Comedy, Juggling & Stunts
There's nobody funnier than comedian John Moyer. His standup comedy will have you and your guests rolling in the aisles during the whole show – guaranteed. If you're looking for an entertainer that your guests will absolutely fall in love with, John's your guy.
Funnyman Matt Baker is a one-of-a-kind corporate comedy entertainer. His unique show includes stand-up comedy, unbelievable juggling, and bizarre stunts. Matt was voted Seattle's Funniest Prop Comic and has performed his comedy stunt show to amazed audiences all over the world. Matt was a featured performer at the Las Vegas Comedy Festival and has appeared on numerous TV shows including Last Comic Standing and America's Got Talent. He has that rare ability to connect with his audience, making every show a unique experience. Matt's comedy act is edgy, hilarious, appropriate for all audiences, and is one the most requested variety acts in the country.
Comedy magician Chipper Lowell has been called "one of the top, live stage comedians of the year" by the Sacramento Bee and was twice given the Merlin Award as the "Comedy Magician of the Year" by the International Magicians Society. The Los Angeles Times calls chipper "feverish, frenetic, and hilarious!" – and that's an understatement.
Chipper is who Fortune 500 companies call when they want a hilarious corporate comedy show. His comedy is clean, original, bizarre, improvisational, and includes lots of riotous fun-filled audience participation. Chipper has appeared on the Tonight Show with Jay Leno, Jerry Lewis Muscular Dystrophy Telethon, and the Disney Channel, just to name a few, as well as dozens of major TV commercials.
The Dan Paulus magic comedy act includes a good dose of audience participation which often produces hilarious experiences. Dan's award-winning show has audiences laughing hysterically from start to finish. Dan was voted Utah's "Best Stand-Up Magician" in 2009 by the Intermountain Magicians Assembly and is a great fit for corporate events, turning timid guests into co-stars with his unique brand of corporate comedy and magic.
More Comedy Entertainers for Corporate Functions
Al Lampkin
Award-Winning Magic Comedy
The magic comedy act of Al Lampkin is funny, clean, politically neutral, and appeals to everyone. Al is a regular performer at the famous Hollywood Magic Castle and was voted the "Best Comedy Act" by the International Brotherhood of Magicians as well as the "Best Close-Up Magician" of the year by the Pacific Coast of Magicians.
Comedy stunt performer Marcus Wilson is a one-of-a-kind entertainer that always works audiences into a frenzy with his side-splitting humor and unbelievable stunts. When you want family friendly fare, audience participation and a truckload of fun, this is your guy.
Jeff Civillico
Comedy, Juggling, Emcee, Team Building
Hilarious Jeff Civillico is a man of many talents. His spontaneous and confident nature, combined with his quick wit, make him the ideal emcee for all types of events. Jeff is professional, clean, polished, and able to adapt to any situation that might arise. With Jeff as your MC, you can rest assured that your event will be a huge success.
But there's a whole lot more to Jeff Civillico than his emcee skills. Jeff and his unique "Comedy in Action" show include world-class juggling, balancing, athleticism, and an abundance of hilarious audience participation. Jeff is a popular corporate comedy entertainer who is laugh-out-loud hysterical – a comedic genius who will keep your audience in stitches from start to finish.
Comedian Stephen Jones is in hot demand for his unique and side-splitting humor. Whether you have a crowd of 50 or 5,000, he will have them laughing out loud 'till their bellies ache. Stephen is perfect as a standup comic or emcee, displaying a quick wit that keeps audiences excited and amused.